Impregnant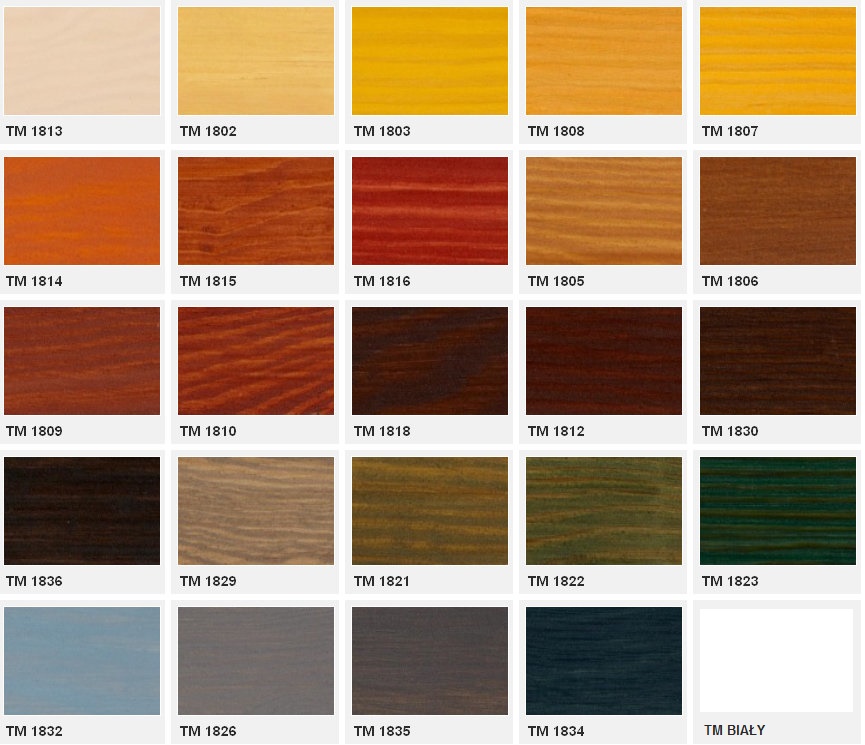 We paint glued laminated timber elements with high quality ecological Teknos impregnants. Before applying two outer layers, glued timber elements are primed with a special protective agent against fungi and insects. Using the latest technologies in the production of impregnants, Teknos reduced the size of particles and pigments to less than 100 nanometers. This modification produced the effect of deeper penetration, saturation and protection of structural elements made of glued timber. The formulation of Teknos coatings has been designed so that, despite the atmospheric conditions, they maintain the attractive appearance of the wood for a long time. Teknos coating systems are based on water and therefore comply with EN standards - European environmental protection standards. The basic colour palette contains 24 colours. The structure of the terrace/carport roof can be painted any colour from the RAL palette, or a different type of impregnation can be used on request.
Roofing
Depending on the model and the shape of the terrace/carport, we propose high quality polycarbonates as a roofing material. We offer Danish solid polycarbonate panels, Fastlock Uni system or flat cellular polycarbonate panels
Fastlock UNI basic colours
White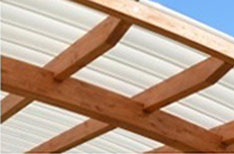 Smoky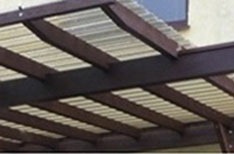 Amber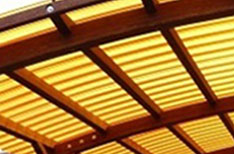 Transparent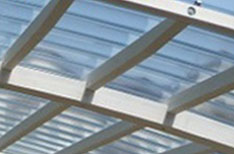 Fastlock UNI colours to order








Fastlock Uni panel system made of solid polycarbonate
It enables us to build original roofs, which are distinguished by lightness, subtlety of form and exceptional strength. The basic elements of the system Fastlock Uni are panels whose regular structure and flexibility make the building exceptionally appealing. A single panel can cover effectively a width of 20cm. Individual panels are snap-fixed to the structure, then a fold of one panel is clamped in the fold of another one, which is mounted on the structure. This process does not require drilling or otherwise interfering with the structure of the panels, which makes such a roof practically life-long watertight. The Fastlock Uni panels are very durable – their load capacity reaches 300kg/m2, they are also resistant to strong winds and hail. The panels are made of solid polycarbonate which makes them very easy to clean. Most dirt is washed off by heavy rain. The panels are available as transparent, opal-white, smoky or amber.
Cellular polycarbonate panel system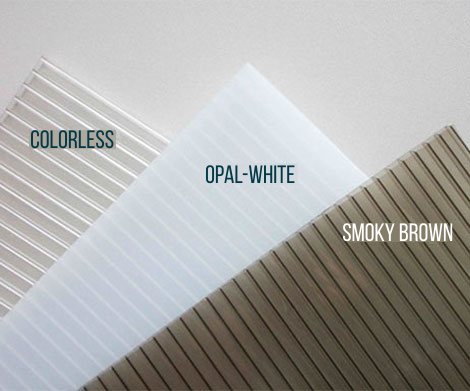 Cellular polycarbonate (PCB) is a material whose properties make it the most versatile material capable of combining outstanding optical and strength parameters with excellent thermal insulation and low weight. Cellular polycarbonate is used e.g. for glazing marketplaces, swimming pools, industrial and sports halls, for transparent noise barriers and in individual construction for terrace roofs, awnings, partition walls, orangery, winter gardens as well as filling balcony and staircase railings. An additional advantage of these panels is the ability to shape arcs through hot or cold bending.
Fittings, screws and bolts
Fittings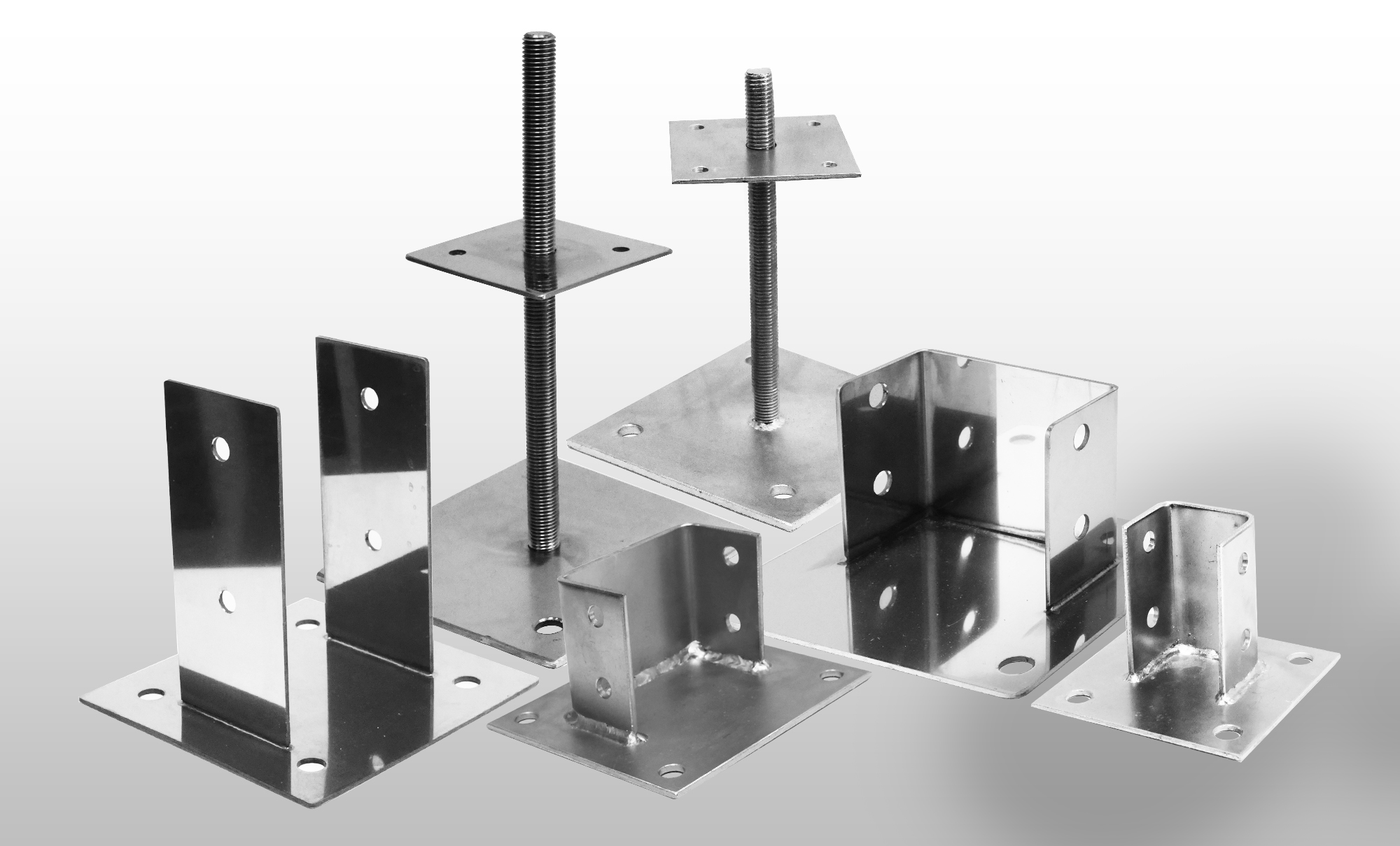 We offer galvanized fittings or, for an additional charge, stainless steel fittings, these are e.g. bottom bases of columns, post connectors with supporting elements and wall slings. We make fittings in our factory, thanks to which we have the possibility of designing them individually, depending on the dimensions and model of the roof.
Screws and bolts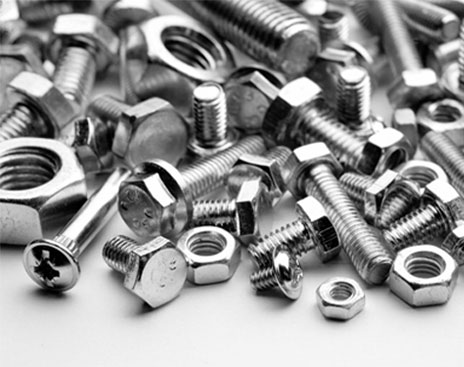 All our roofs usually come with wood screws from the German company Eurotec with a blue+ coating. The blue+ coating is an innovative system with a higher corrosion resistance than galvanized surfaces. In the blue+ system, a coating is applied to the galvanized surface, which reacts with it. In this way, any weakened galvanized places are also closed and secured. The coating does not contain chromium oxide, which is classified as a substance harmful to the environment. Surfaces covered with the blue+ coating have very good resistance to mechanical loads. Thanks to the special geometry of the AG screw tip, the torque required to screw it in is significantly reduced, i.e. the screw can be screwed in more easily. In contrast to the common screw tips, this reduces the risk of chipping or splitting the wood screw.